PBS Kids Sprout (later simply Sprout) is an American pay television channel owned by the NBCUniversal Cable Entertainment Group, a division of NBCUniversal, all owned by Comcast. The channel was launched on September 26, 2005. The original Sprout channel closed down in 2017.
Mission
Being the 24-hour preschool channel "parents and kids share together" for shows, activities, and adventure, Sprout's mission was to educate and entertain by inspiring imagination, creativity, and spontaneity. Sprout created idents and branding featuring its logo. These usually were crafty and creative, and they were inspired by children's book illustrations.
Background
Sprout traces its origins to the PBS Kids network (referred to as PBS Kids Channel in press materials), which launched on September 6, 1999 coinciding with the rebranding of PTV, PBS' children's programming block, to PBS Kids that day. The PBS Kids feed was available on high-tier subscription providers, and was also offered to PBS member stations for use on a "cablecast" service (a subscription-based local channel provided by the member station) or for use on the member station's free-to-air analog channel to provide a portion of the daytime PBS Kids programming on the station. Participating stations were required to pay an annual fee of $1,000 to use the feed. At launch, 32 PBS member stations had signed up to use the service. The channel was created, in part, to compete against Nick Jr. and its sister network Noggin (which now shares its name with the Nick Jr. block). 
Because the pay TV rights to the Children's Television Workshop's program library were owned by Noggin (which CTW owned a 50% interest in at the time), the channel did not broadcast any CTW programming, including Sesame Street, a longtime staple of PBS' children's programming lineup. The CTW-produced Dragon Tales, which premiered on the same day as the launch of the PBS Kids Channel, was the only exception to this.
The channel was not successful and had only reached 9 million households as of 2002, compared to Noggin's 23.3 million households at the time. Once the channel shut down, many member stations which had been using the PBS Kids channel on their cablecast channels or free-to-air digital subchannels continued to operate their children's channels as local services scheduled independently of a satellite feed, while other member stations shut down their kids channels entirely and redirected viewers of those channels to the newly launched PBS Kids Sprout. PBS later revived the PBS Kids Channel on January 16, 2017, this time with an online streaming option in addition to utilizing largely the same distribution methods that had been used for the original channel.
History
Origins (2004-2005)
The ideas that formed Sprout started in June[1] 2004, when PBS, HiT Entertainment, Sesame Workshop, and Comcast entered a partnership. A Sprout VOD service was launched in April 2005, offering 55 hours of preschool shows in both English and Spanish. Lesser-known shows were put in a category called "Children's Favorites" and eventually in their own categories. [2]
2005 - 2009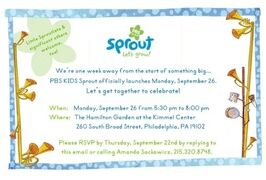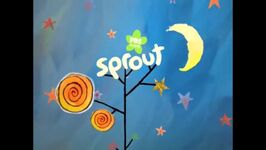 After a successful on-demand launch and months of preparation, PBS Kids Sprout was launched on TV on September 26, 2005. It showed series from PBS, HiT Entertainment, and Sesame Workshop's libraries, and was operated on the 24th floor of the Comcast Center in Philadelphia, Pennsylvania. Its main target audience was originally preschoolers, and featured schedules based on the day.  Morning programming featured shows designed for kids to get ready for the day, late morning and afternoon programming featured educational shows for kids, and evening programming was designed to get kids ready to go to sleep.[3]
There was a multi-platform approach to Sprout. The linear channel had variety with various shows from all over the world, the on-demand services had instant access to specific shows, and the programming blocks incorporated the use of the website. The look and feel of the channel during this era were designed to look like a children's picture book and is mostly done in a 2D style. This branding was done courtesy of Primal Screen, who also designed the logo.
When Sprout launched, it was swamped with too many programs, some of which were inappropriate for a preschool audience, so they were all taken off the air, on-demand, and online sometime in 2006.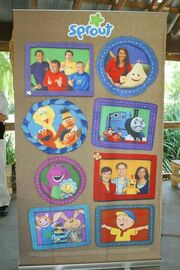 Shortly after Sprout launched, Andrew Beecham was crowned senior vice president of programming and Sandy Wax as president. Unlike most American children's channels at the time, Sprout had links in between shows hosted by gentle adults. Beecham came from Britain, where they always had hosted continuity links. Hosts Kevin Yamada and Melanie Martinez were intended not simply to act as navigators but to add value with live-action interstitials involving singing, game playing and storytelling. Yamada read birthday cards as part of The Birthday Show, and Martinez did crafts, sang songs, taught stretches and sign language, introduced Spanish words, and told stories as part of The Good Night Show. She was unfairly fired the next year for appearing in a PSA about not getting pregnant, and was subsequently replaced by Leo (Noel MacNeal), and then Nina (Michele Lepe), who would become the most iconic host of the block, along with Star. Sprout's earlier original shows were often short-form series or started out as short-form before becoming half-hour shows. These included Sprout Diner, The Many Adventures of Mr. Mailman, and Pajanimals.
By 2007, Sprout started airing other blocks during different times of the day. The Let's Go Show, which aired on afternoons and later weekends, launched in June, [4] Musical Mornings with Coo and The Sunny Side Up Show, which aired on weekday mornings, both launched on Sprout's 2nd anniversary, [5] and The Sprout Sharing Show, which aired on afternoons, launched on May 5, 2008 with new show PICMe, an Irish cartoon in which viewers could see their heads on an animated body on TV.[6] Sprout also launched the Sprout for Parents and Sprout Please websites.
Sprout's scheduling also eschewed the practice of combining multiple episodes of short-form children's series into a single half-hour episode with interstitial segments for U.S. broadcast, electing to air such programs individually in their original format, probably due to attention spans.[7] For example, Thomas & Friends' older episodes last 4 and a half minutes. They aired exactly like that without being elongated. The network would be advertising-supported, but ads would only air between programs in small quantities and would be aimed towards parents and caregivers. During commercial breaks, many advertisements were aired for identity theft, paying taxes, and car insurance, although there were commercials aimed for kids as well, mostly mail-order toy commercials from As Seen On TV such as Pillow Pets.
In Spring 2009, it was announced The Wiggles were moving to Sprout from Playhouse Disney with their own block, which launched in August that year.[8] This was due to competition with the Imagination Movers, a children's music group from New Orleans who received their own TV show. After that, they appeared on The Sunny Side Up Show with Kelly and puppet co-host Chica the Chicken.[9][10]
2009 - 2015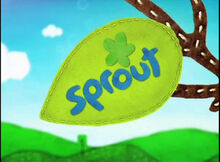 A new season of The Good Night Show premiered on September 21st, 2009 and introduced the British CGI show Rubbadubbers, and Nina guested on The Sunny Side Up Show to promote the new season. Sprout got a major facelift at that time, and each block and most shows opened with Sproutlets and/or their parents opening a cardboard shoebox with the Sprout logo. Idents and branding were designed by the company Trace Pictures.[11]
In 2010, Sprout started investing in long-form original programming with the premiere of Noodle and Doodle, its first long-form series, which launched alongside a weekend edition of The Sunny Side Up Show,[12] which replaced The Let's Go Show. Other new shows were created specifically for the channel, including a 26-episode, long-form version of Pajanimals and The Chica Show, a live-action/animated spin-off of The Sunny Side Up Show. Many of these shows aired on the main NBC channel as part of a block called NBC Kids.
Comcast acquired a majority stake in NBCUniversal in 2011, and assumed full ownership of the company in 2013. As a result, Comcast's interest in Sprout was turned over to the company. With Apax Funds (UK) and Mattel (US) acquiring HiT Entertainment, the company decided to quit funding the network, albeit programs such as Barney & Friends and Thomas & Friends still running. In December 2012, Sesame Workshop sold its interest of Sprout to Comcast. As a result, the "PBS Kids" branding was dropped from the channel's name, and operations moved to New York from Philadelphia. In October 2014, operations moved to 30 Rockefeller Plaza in New York from the Comcast Center.
2015 - 2018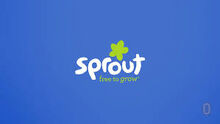 Sprout had new graphics introduced on September 26, 2015, to celebrate the channel turning ten. A few PBS shows were dropped as well, such as Sesame Street, Barney, Thomas, Bob the Builder, and Super WHY!. The former show aired until November as a result of a deal Sesame Workshop made with HBO, although spin-off Play with Me Sesame continued to run until sometime the next year. As a result, The Sunny Side Up Show moved from the Sunshine Barn to a city loft with touch screens, starting with a "road trip" arc, and removed "The" and "Show" from its name, and Sprout introduced two new shows, Nina's World and Sydney Sailboat. This was at the time Sprout received a new slogan, "Free to Grow." Alyssa Milano became Sprout's "Mom-bassador," announcing her new role on The Sunny Side Up Show shortly before the move and "road trip" arc. The graphics were made to be sleek, minimalist, and modern, as opposed to the crafty and creative childhood feel of the first two generations. The third generation lasted until Sprout closed.
In September 2017, the Sprout channel became a part of Universal Kids, a channel run by NBCUniversal which airs shows aimed at both preschoolers and bigger kids. During this time, new acquired shows were introduced including Olivia, Charlie and Lola, Ollie! The Boy Who Became What He Ate, and Pablo. The Sprout name was used for the channel's 15-hour preschool block until early 2018. As a result, Sunny Side Up was replaced by a pre-recorded interstitial series called Sprout House (later Snug's House). Sprout House was hosted by veteran Sunny host Carly Ciarrocchi and an orange dog puppet named Snug, with occasional appearances from a human character named TJ, in a set reminiscent of the "tiny house" movement, and was seldom live. When Universal Kids launched, a Sprout block aired from 3AM to 6PM ET, but the Sprout name and website were both removed in early 2018, leaving the only traces of Sprout left being Sunny Side Up Show backdrop in a Sarah & Duck promo picture and the flower-shaped window on the Sprout House set. Since 2017, the network has been bringing back older shows that used to air on its channel when it was originally known as Sprout. Ready Steady Wiggle on June 5, 2017, Barney & Friends on December 17, 2018, Bob the Builder: Ready Steady Build! on April 23, 2019, and The Chica Show on May 20, 2019. As of 2022, this is no longer the case, as Universal Kids airs show marathons every day, and from there the Sprout brand currently lays dormant. Nowadays, Sprout fans wonder if their beloved channel is gone for good.
Presentation
Hosts and Continuity Characters
Branches
Series
Sprout aired a wide variety of different shows, which fit into six categories:
Links
References